Cast Iron Sovent® Single-Stack Sanitary DWV Systems by Conine Manufacturing Co., Inc.
---
Conine Manufacturing Co., Inc. presents the Cast Iron Sovent® single-stack sanitary drainage, waste & venting system. This system offers many benefits to the high-rise construction industry by conserving resources, reducing space requirements and saving money—all while providing a proven safe and effective means of transporting wastes. Cast Iron Sovent® systems meet the intent of all model Plumbing Codes for fixture trap-seal retention. The Aerator and De-aerator fittings use hubless connections for ease of assembly and maintain desirable acoustical properties associated with cast iron.
Established in 1977, we offer the industry an extensive track record in excess of 2,000 project installations. Conine Manufacturing Co., Inc. is the only licensed manufacturer/marketer of the Cast Iron Sovent® system in the United States. Our wealth of knowledge and level of customer support cannot be matched. We provide Contractors, Engineers and Code Officials with timely response and services that include the following: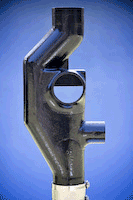 Design Assistance - Layout and sizing of all components
Plan Reviews - Preliminary through final approval submittals
Consultation - Determination of project suitability
Education - Basic to advanced methods of design, installation & inspection
Code Relations - Jurisdictional procedures, processes and approvals
…And much more.
To see how Cast Iron Sovent® can eliminate pipe, fittings, couplings, hangers, floor penetrations, fireproofing and other materials—and all their associated LABOR costs—click here. Check out our downloads section for technical and ordering information. Contact us for more specific information on your multi-story project needs using the Cast Iron Sovent® advantage.